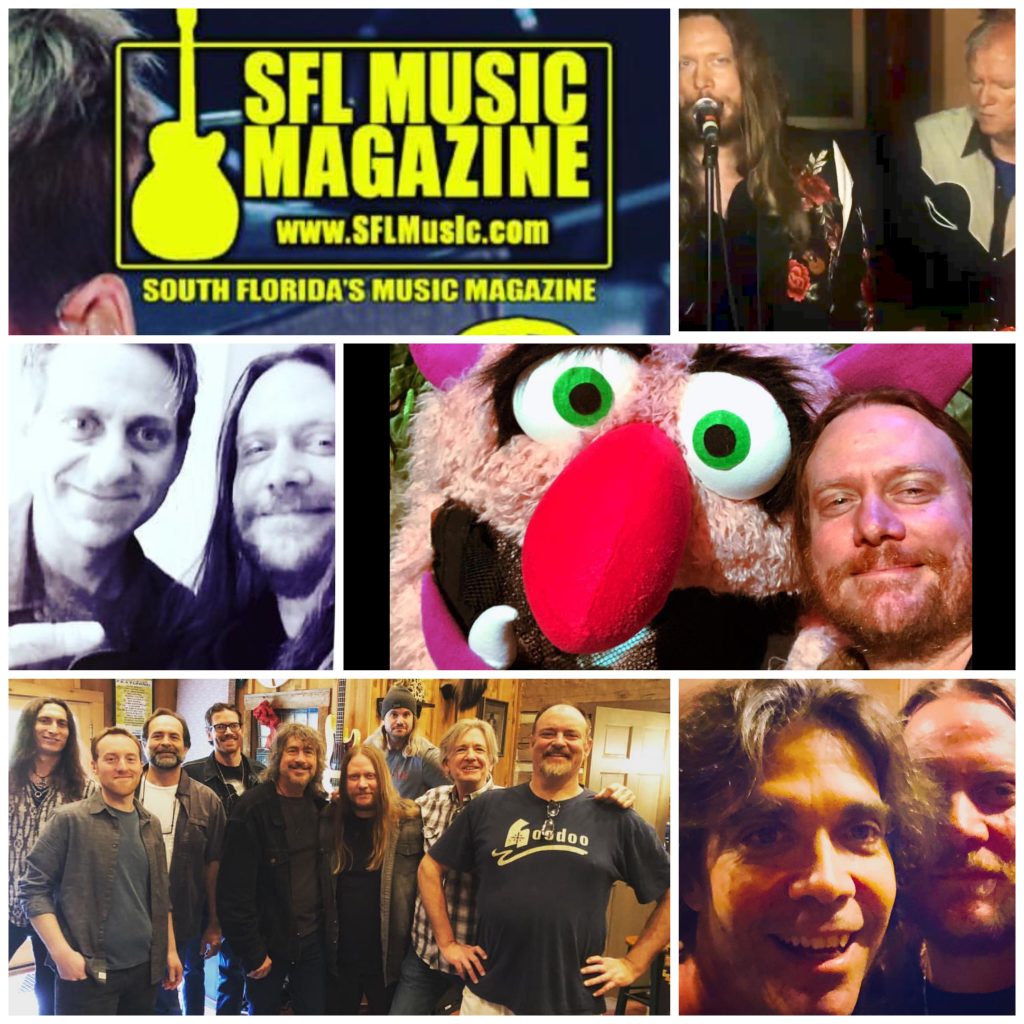 Hello, everyone. Before 2018 is through, we wanted to thank YOU, briefly review the year that was, and provide a glimpse of what's to come in 2019.
The year got off to a great start with a feature in SFL Music Magazine, written by Todd McFlicker, which focused on the single "Hit Me, I'll Hit You Back" with Charlie Pickett.
January — Back in the studio

Jim was in the studio with brother John Camacho, recording for an upcomingEP, a follow-up to their first-ever release, Jim and John Camacho and Their Band of Local Heroes. Lending their talent and great energy to these sessions, were musician friends, Steph Taylor (The State Of), and Jason Hann (The String Cheese Incident and EOTO).
February — Writing in Nashville
im was in Nashville, TN collaborating with some great songwriters including: Jodi Marr, Drew Ramsey, Will Edwards, Katelyn Clampett, Alejandro Sierra, Luke Olson, Regan Rousseau, and Trevor Wood. Back in Miami, Jim wrote with pop singer/songwriter and rising star Alec Joseph.
March — a cave and a cabin
Jim's first children's musical The Cavie Islanders & The Trollreturned to the stage, produced at The Mandelstam Theater. In 2018's production, the Troll magically came to life, thanks to the amazing James Wojtal, who designed, built and performed the Troll puppet, and Fernando Perdomo for giving him his voice. Troll even made a guest appearance in Jim's Tiny Desk video along with some of the talented kids singing a song from the show.
In late March, Jim was back at work recording new music at the Cash Cabin in Hendersonville with Grammy award winner John Carter Cash (Loretta Lynn / Elvis Costello / Billy Joe Shaver) producing, and fellow Grammy award winner Chuck Turner (Roy Orbison /Willie Nelson)engineering and mixing. Songs to be released in 2019!

April/May — Hey John, let's make it a full length
With Jim back in Miami and brother John also in town, they returned to the studio and were pleasantly sidetracked with inspiration writing a flurry of new songs. This prompted the decision to expand the upcoming EP into a full-length release.
Summer – bucket list…check!
Jim played hooky and took a trip to NYC to see one of his songwriting heroes Lloyd Cole, whodelivered a rare solo acoustic performance at NYC's City Winery. A fan since his early teens, Jim is now able to check off one from the bucket list of live shows. Another elusive performer on Jim's live show bucket list is Kate Bush. Kate, if you're reading this… please plan another run of shows.

August – Photographers in love
Jim contributed a recording to Fernando Perdomo's album, Fernando Perdomo Has Lost His Voice, which came out August 17th. The record was a compilation of new versions of Perdomo's songs sung by some of his favorite singers. Jim recorded the song "Photographers in Love" which has always been one of Jim's favorite Fernando songs.

September / October – The Mouse is back
For the sixth year in a row, as director and musical director, Jim conducted auditions and casting for his holiday musical Mouse King, a collaboration between Jim and Sesame Street alum Noel MacNeal, and with puppets built by James Wojtal Jr. Mouse King geared up early that month and continued through October and November with lots and lots of rehearsals preparing for the opening in December.
November – "Blank Page", "Stay" and Jim Camacho Day!
In November, Jim's co-write with Grammy award winners Johnny Reid and Jodi Marr, "Blank Page", was included on the album Revival Live which was released November 9. Later that month, Jim was back in the studio putting the finishing touches on the last track for the upcoming album "Adventures in Songwriting", a song called "Stay", written with Sean Wouters of the Deaf Poets.
Another highlight for 2018 was when the City of South Miami, Mayor Phil Stoddard and the City Council declared November 20 "Jim Camacho Day".
December – December Dreams
Leading up to their run of Mouse King performances, Jim and the Mouse King cast spread holiday cheer around South Florida with a media blitz: They were guests at WLRN's "Folk & Acoustic Music with Michael Stock" Dec. 2nd, were featured on the NBC 6 in the Mix Facebook live feed Dec. 3rd, sang songs on a Shake 94 Local Love Live broadcast Dec. 5th, and returned to the Miramar NBC studios for a live appearance on 6 in the Mix on Dec. 13th.
Mouse King ran at The Mandelstam Theater for two weekends, December 7 – 9 and 14 – 16, enjoying sellout performances. Thousands of folks celebrated "Chrismouse" with us, our "Favorite Time of Year" in the "Kingdom of Sweets"!
2018 was our best year yet on Spotify, with 12K streams in 61 countries from 6K fans. Thanks to everyone for listening!
Finally, on Jim's birthday, December 21st, Jim decided to self-release of a cover of Fred Neil's version of the John Braheny song "December Dream". Click here to listen now.
2019 – Onward and Upward!
2019 will see the release of new full length album with brother John, the launch of the Adventures in Songwriting series, Season 1, and Jim's new Nashville recordings. Wishing you and yours a very happy and healthy New Year!

Peace, Love and Happiness!
Jim & Team JCM