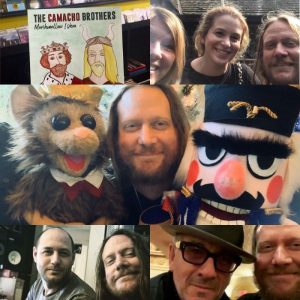 This year really seemed to fly by, didn't it? Before we move on to 2020, I'd like to take a moment to look back, with much appreciation and gratitude, on the year that was 2019:
I spent much of January and February in the studio with brother John Camacho, putting the finishing touches on some new music that we would soon release together as The Camacho Brothers.
In March, my musical The Guru of Gir was performed at the Mandelstam Theater. After a lot of hard work and preparation, the shows were performed brilliantly by the theater students thrilling a packed house. We even had sitar player Stephan Mikes outside to entertain the audience on their way in.
April was a landmark month in that the first Camacho Brothers release was issued on Record Store Day, April 13. The double A side of "Marshmallow" and "Vera" came out on vinyl and was placed in local record stores such as Y&T Records, Sweat, Technique, RadioActive, The Record Rack, 1-800-Lucky, and others. I can't thank the brilliant team of musicians, engineers, mixing and mastering magicians who took part in the making of this record enough: Jason Hann (The String Cheese Incident and EOTO), Izo Besares (Humbert / I Don't Know), Roger Houdaille (Ex Norwegian), Fernando Perdomo, Tony Oms (The Goods), Juan Davila, Steph Taylor (the State Of ), Tim Hamilton, Zach McRary (Electric Jelly Funk), Ferny Copel (The Shack) , Leo Partipilo (PMB/Mixing), Jasper Cunningham (ARK South/Engineer) and Ryan Smith (Sterling Sound/Mastering) 
To promote the release, John and I appeared on the Open Swim local radio podcast with host Erin Lee on April 14 – click here to listen to it.  That same day, we joined Michael Stock in-studio for a live broadcast of his show Folk & Acoustic on 91.3 FM  WLRN. Navigate here to watch and listen to the entire segment on YouTube. Special thanks to Ben Crandell for covering the release in his SouthFlorida.com / Sun Sentinel "Go Guide" column.
Bar Nancy hosted our official "Marshmallow" / "Vera" record release party on April 19, which featured a band of local luminaries, and a mini-Goods reunion. The night also featured beautiful solo acoustic performances by Rene Alvarez, W.D. Miller and Sharief Hobley, and a wonderful full-band set by Ex Norwegian. We had fun promoting the show online, by posting a "Marshmallow" teaser clip and show promo clip Instagram, to go along with a couple of B-sides on YouTube in "Irish Name" and "Cumberland Road". Thanks to Michael Hamersly and the Miami Herald for featuring the show in the "Weekend Ticket".
In May, I returned to Nashville, TN to write new music with Ana Cristina Cash, Jodi Marr, Regan Rosseau, Joe Dacaache and Matt Wagner as part of my work with the AbFab Music Publishing Company. I'm looking forward to some of the music from these sessions to be released in 2020.
Once the summer rolled around, my attention focused on wrapping the production on and planning for a special Adventures in Songwriting Season 1 release and celebration concert. Spending much of  June and July holed up in the 2WayCreative editing studio with my creative compatriot Juan Davila, we completed work on four new episodes featuring Rob Elba, Fernando Perdomo, Elsten Torres, and Sean Wouters from Deaf Poets, to go along with the previously released clips including Charlie Pickett, and Michelle and Roger from Ex Norwegian.
We again had a little fun with the promotions part of it – here's a clip narrated by Erik Fabregat, who also played rhythm guitar in the AIS house band. Thanks again to Ben Crandell for the preview and feature on AIS, to Celia Almedia / the Miami New Times for naming it a "Best Thing to Do in Miami", and to Joey Maya for the feature on the Jitney Blog.
The night of the celebration was a smash, with a full theater of friends and fans getting a chance to enjoy performances from some of the area's best singer/songwriters. Check out Howard Cohen's review of the night here. Thanks to Paul Tei and the Mad Cat Theatre Company team for directing, Leo Patripilo for making everything sound so good and the best house band you could ask for, which also included Juan Davila (drums), and brother John (keys). Thankfully, we recorded and filmed the entire performance, and you can now check out clips from several of the featured artists on my YouTube page:
"Bad Tattoo" with Fernando Perdomo
"Riot of Love" with Michelle and Roger / Ex Norwegian
"Love is Taking Over" with Elsten Torres
"I'm So Old" with Rob Elba
As the calendar turned to September, auditions and rehearsals for the annual production of MOUSE KING commenced. Before it got too crazy, I took the opportunity to jet off to NYC to catch one of my favorite artists Nick Cave at The Town Hall, and happened to run into another one of my all-time faves, Elvis Costello. I can't tell you what a treat it was to see "A Conversation with Nick Cave" and get to have an actual conversation with Elvis. It was a night I won't soon forget!
Soon summer gave way to fall and I was honored to be featured in a Voyage MIA magazine artist profile during the month of October. Next, all my energies went into the 7th season of MOUSE KING. I'm so appreciative of all the folks who came out to this year's run, which was executed brilliantly by the child cast in tandem with the crew of professional puppeteers and performers: James Wojtal, Jr., Nate Begle, Mindy Escobar-Leanse, Isabella Cofino and Luckner Bruno. Special thanks to Deen and the family, and Noel MacNeal (book), who surprised us with a visit during the first weekend. Shout out to Ben Crandell for previewing the run in his column, Rod Hagwood for including it in his compilation of Nutcrackers, and to the Community Newspapers for the editorial coverage.
What a year!
I'm looking forward to 2020, releasing new solo music including my new song "Going on Faith", continuing to work with brother John to complete and release more Camacho Brothers music, and heading back to Nashville to make more music!
Wishing you all a very Happy New Year! God Bless!