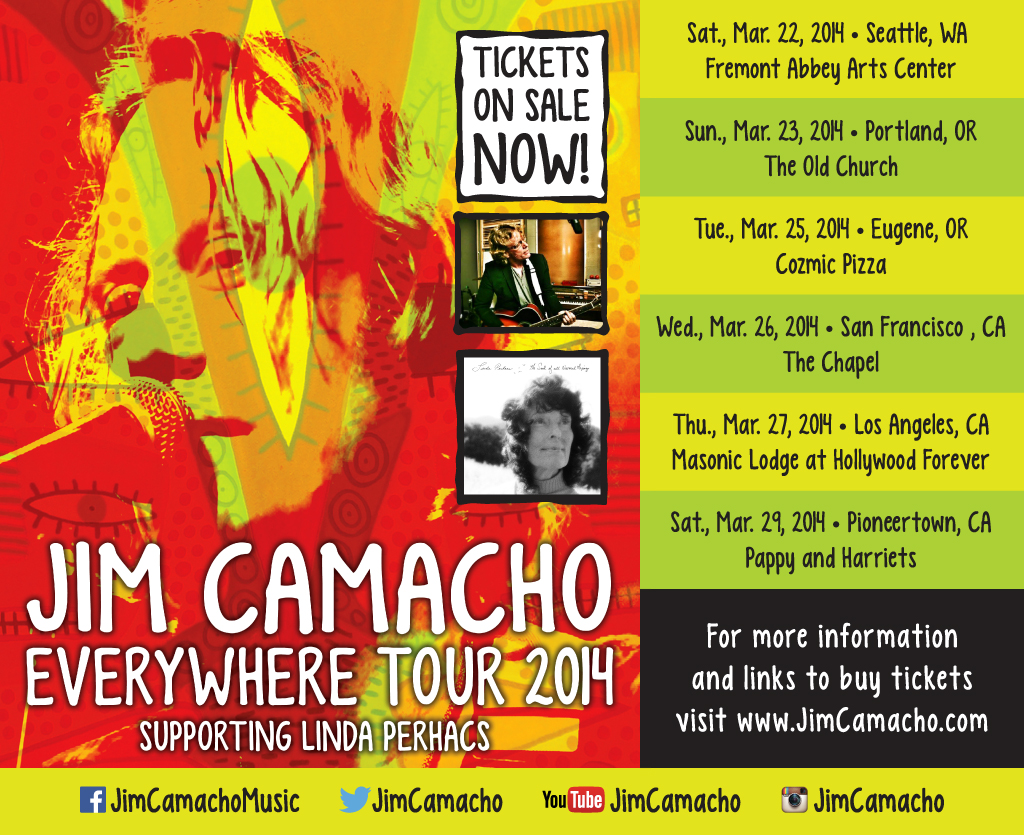 Everywhere Tour 2014 supporting Linda Perhacs
Date
Venue
Location
Ticket link
Sat., Mar. 22, 2014
Fremont Abbey Arts Center
Seattle, WA
http://tinyurl.com/my8egad
Sun., Mar. 23, 2014
The Old Church
Portland, OR
http://tinyurl.com/mus2wqx
Tue., Mar. 25, 2014
Cozmic Pizza
Eugene, OR
http://tinyurl.com/mzg4aw6
Wed., Mar. 26, 2014
The Chapel
San Francisco, CA
http://tinyurl.com/kwqbwqp
Thu., Mar. 27, 2014
Masonic Lodge at Hollywood Forever
Los Angeles, CA
http://tinyurl.com/mn2ms3g
Sat., Mar. 29, 2014
Pappy and Harriets
Pioneertown, CA
http://tinyurl.com/mfvxjc9
For additional show dates, go to: http://www.jimcamacho.com/shows/
Jim Camacho to Tour the West Coast supporting Linda Perhacs March 22-29
FOR IMMEDIATE RELEASE
Miami, FL – February 18, 2014 – Singer / songwriter Jim Camacho will hit the road in the spring to open for the recently reemerged 70's folk singer / songwriter Linda Perhacs, returning to the west coast for another round of dates in support of his critically-acclaimed 2013 release Everywhere. The tour will span seven days, cover three states and take Camacho into unchartered territory.
"I'm truly excited and grateful to have the opportunity to take my music on the road with such an extraordinary artist like Linda Perhacs," says Camacho. "It will mark the first time I've had a chance to perform in the northwest and getting to play the great state of California is always a joy. I'm looking forward to reconnecting with friends and fans as well as meeting new people along the way."
The tour will begin in Seattle at the Fremont Abbey Arts Center on March 22, then wind through Portland (The Old Church), Eugene at Cozmic Pizza, San Francisco's The Chapel, the Masonic Lodge at Hollywood Forever in Los Angeles and conclude in the Pioneertown venue Pappy and Harriets, near San Bernadino.  All venues are small to medium sized halls specializing in acoustic music; tickets for all shows are on sale now and range from $15 to $27.50.
Camacho released his latest work, a five-song EP called Everywhere on Forward Motion / Broken Records last fall, named one of the top albums of 2013 by the Broward Palm Beach New Times, featuring the title track and stand out singles "Hold On Ariel," "Clear Design," and "Big Little World." He also recently premiered Mouse King, a musical reworking of The Nutcracker from the mice point of view and featuring master puppeteer Noel MacNeal (Sesame Street, Bear in the Big Blue House, The Great Space Coaster). Camacho composed 13 original tracks, recorded the original cast and produced the accompanying CD.
Linda Perhacs is best known for issuing a beautiful psychedelic folk album Parallelograms in 1970, which drew comparisons to the early work of Joni Mitchell and is described on her website as an "uncanny mix of Aquarian folk and ethereal, avant-garde treatments." Emerging from a four-decade-plus musical hiatus and collaborating with L.A.-by-way-of-Miami musicians Fernando Perdomo and Chris Price, Perhacs, in-part inspired by a 2012 solar eclipse, reemerged, wrote and released a new set of songs this year called The Soul of All Natural Things on the Asthmatic Kitty imprint.
Camacho will be performing one last South Florida date before departing for the tour on March 14 at Luna Star Café (775 NE 125th St, North Miami, FL 33161) with local singer / songwriter Scott Becker